READ FULL STORY @ The Epoch Times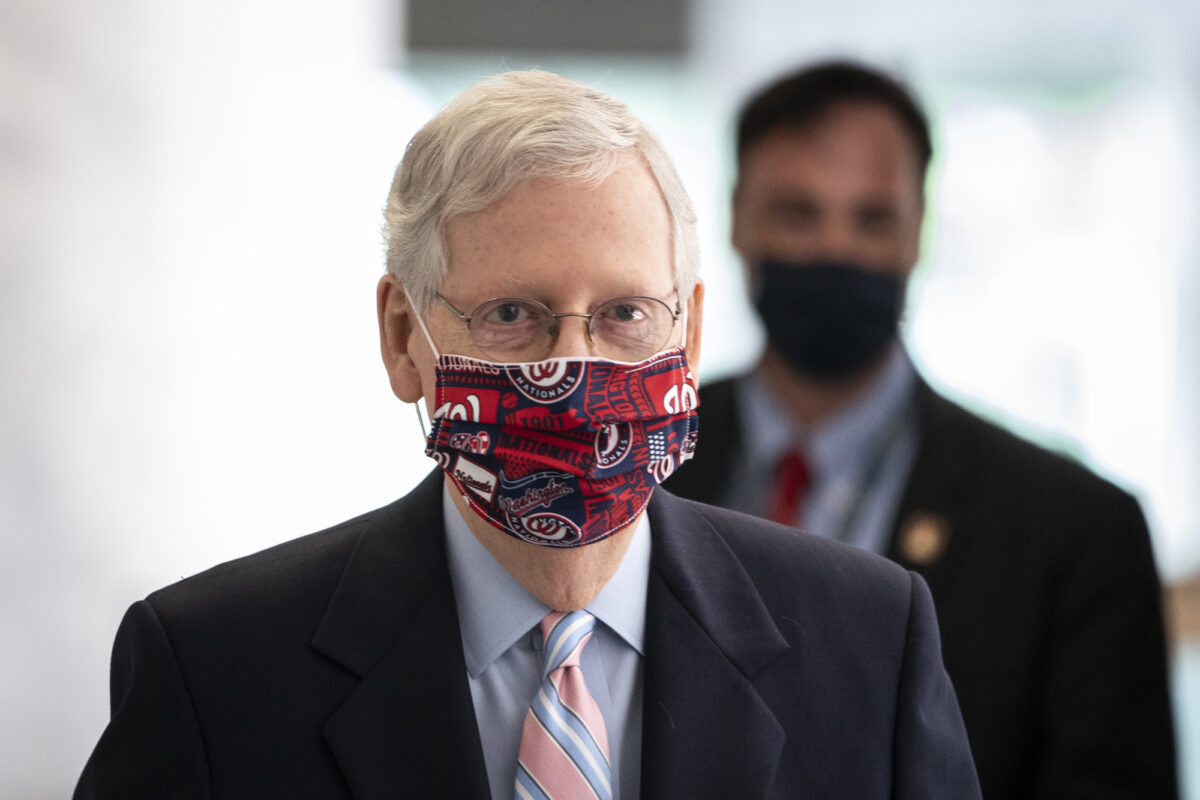 WASHINGTON—The U.S. Senate will vote on Tuesday on a second round of funding for the Paycheck Protection Program (PPP) to help small businesses keep employees on the payroll during the pandemic, and Wednesday on the Republican's proposed $500 billion targeted coronavirus relief bill, Senate Majority Leader Mitch McConnell announced on Saturday.
Democrats have dubbed the Republican's targeted relief bill "skinny," falling short of the $2 trillion wider bill demanded by the Democrats.
House Speaker Nancy Pelosi and Treasury Secretary Steven Mnuchin spoke for an hour and 15 minutes Saturday evening and their staff "will continue discussions, and they have agreed to speak again on Monday," Treasury spokeswoman Monica Crowley said on Twitter.
Pelosi spokesman Drew Hammill said that there was progress on coronavirus testing but "there remains work to do to ensure there is a comprehensive testing plan."
Hammill added there are numerous other differences "that must be addressed in a comprehensive manner in the next 48 hours."
He also said "decisions must be made by the White House in order to demonstrate that the administration is serious about reaching a bipartisan agreement that provides for Americans with the greatest needs during the pandemic."
The White House declined to comment.
On Oct. 10, Mnuchin proposed a $1.8 trillion economic stimulus proposal in talks with Pelosi but many Senate Republicans balked at a package that big.
Asked why Democrats won't accept narrower bills that tackle issues in small groupings or one by one, Mnuchin said he doesn't think there's a good answer.
"I suspect that they don't want to give the president a win three weeks before the election. But they are holding up relief to hardworking Americans," he said in an appearance on Fox Business.
McConnell said on Saturday that reaching an agreement on a new coronavirus relief package was or urgent need to the American people during the tough economic situation brought by the pandemic.
"These are just some of the urgent needs that Washington should meet immediately while debates continue over the rest," McConnell said.
In September, McConnell estimated the cost of the new PPP program at $257 billion.
Pelosi on Oct. 10 rejected the Trump administration's generous $1.8 trillion relief offer—including around $300 billion in state and local fiscal relief that Democrats have been fighting for—arguing it did not provide enough funding for child care, coronavirus testing plans, and would remove employer liability if employees returning to work get infected with COVID-19 as the economy reopens—as requested by Republicans.
Trump has said that his administration will be looking to hold China accountable for releasing the CCP virus on the world.
Mnuchin and White House chief of staff Mark Meadows the following day called on Congress to pass a bill that would enable the initial usage of billions of dollars in leftover PPP funds. The program was authorized under March's CARES Act.
"Secretary Mnuchin and Chief of Staff Meadows are right: There is no excuse for Democrats to keep blocking job-saving funding for the Paycheck Protection Program while other conversations continue," McConnell said at the time, in which he noted that the program had already saved tens of millions of American jobs.
"But it has become yet another casualty of Democrats' all-or-nothing obstruction," McConnell wrote.
Meanwhile, airlines have pleaded with Congress for a new $25 billion bailout to keep workers on the job after a prior six-month payroll assistance program expired on Sept. 30. At least 32,000 airlines workers have been laid off this month after funding ended.
Epoch Times reporters Zachary Stieber, Tom Ozimek, and Reuters contributed to this article.
READ FULL STORY @ The Epoch Times