White House: 100 Million CCP Virus Vaccine Doses Could Be Ready in October
READ FULL STORY @ The Epoch Times
One hundred million doses of the CCP (Chinese Communist Party) virus vaccine could be ready to distribute as early as October, White House Chief of Staff Mark Meadows said Thursday.
Meadows said the Trump administration's goal is to have 100 million doses in an initial tranche, which would primarily go to individuals most at risk of contracting the virus.
"We believe that we can get the vast majority of those at risk with a distribution model that would be available at the end of October," he told reporters outside the White House in Washington.
The second tranche of 200 million-plus could be ready to distribute by January 2021, he added.
Both President Donald Trump and Vice President Mike Pence said Wednesday the administration was on track to have 100 million doses ready by the end of the year.
"We'll be able to distribute at least 100 million vaccine doses by the end of 2020 and a large number much sooner than that," Trump told reporters in Washington.
"We're on track to have one or more safe and effective coronavirus vaccines before the end of the year. We expect to have, if that's the case, 100 million doses before December 31, and then hundreds of millions of doses as we go into 2021," Pence said during a virtual appearance on Fox News's "The Story."
The Trump administration also on Wednesday released a strategy and playbook for distributing the vaccine for free to all Americans.
The vaccination campaign is to begin gradually in January or possibly later this year, according to the documents.
Scientists are racing to test vaccine candidates, with a number in phase three, or the last phase required before approval and distribution.
Through Operation Warp Speed, a Trump administration program, some candidates are already being manufactured to speed the timeline if they are approved by the Food and Drug Administration (FDA).
"So, the very moment that one of those companies that are already in phase three clinical trials says that it's safe, they submit it to the FDA, as soon as the FDA says it's safe and effective, we will have tens of millions of doses available for the American people," Pence said.
Some vaccines being produced will be discarded, Meadows said, because they won't have been proven safe or effective.
Concerns about what would be the fastest vaccine produced in history are rampant, with many Democrats accusing Trump of trying to rush development to get one before the Nov. 3 presidential election, and others dismissing hopes that it will be available soon.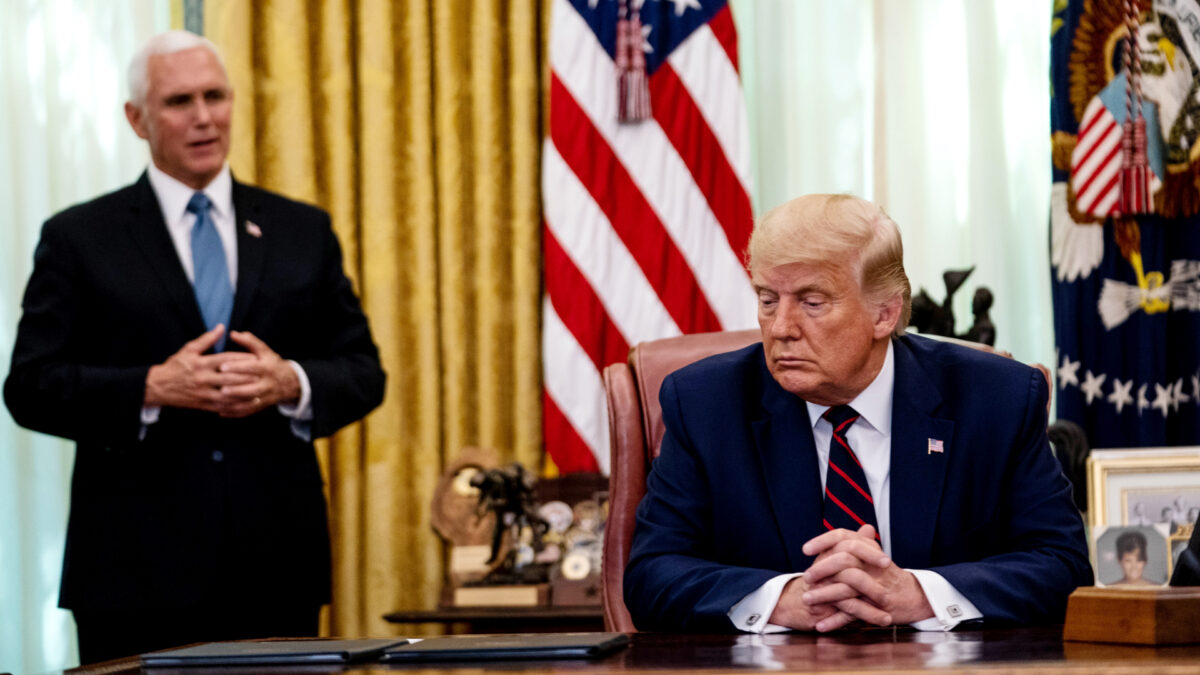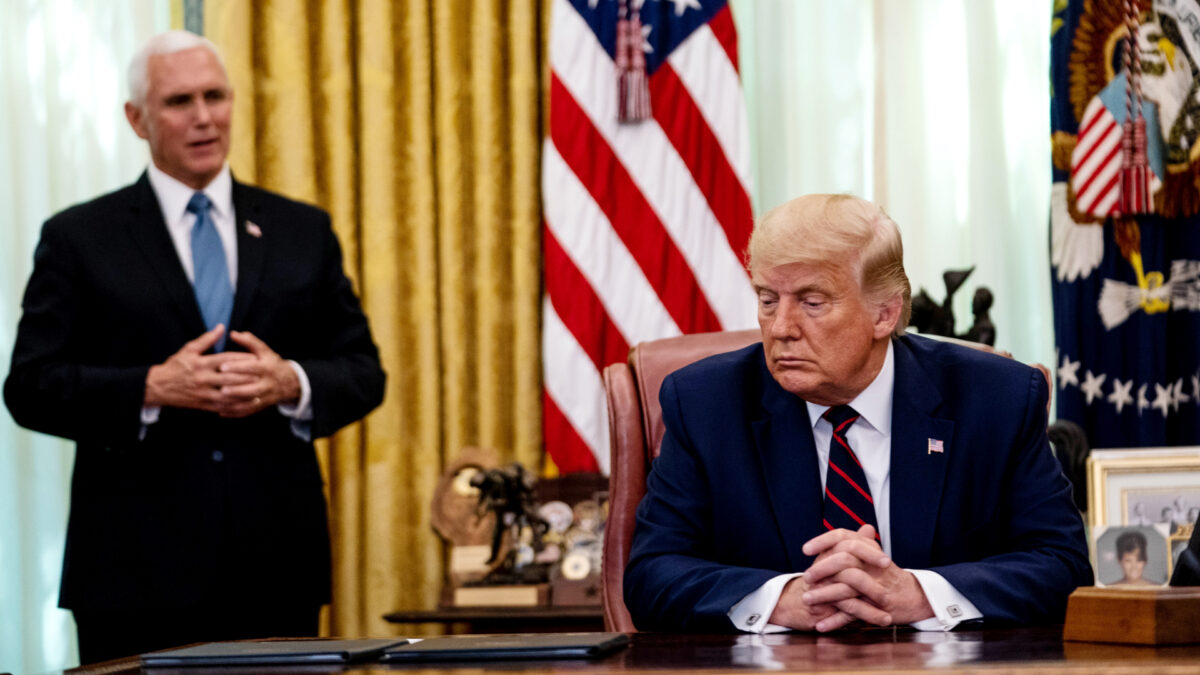 Vice President Mike Pence speaks as President Donald Trump listens, in the Oval Office of the White House in Washington on Sept. 4, 2020. (Anna Moneymaker-Pool/Getty Images)

Democratic presidential nominee and former Vice President Joe Biden speaks with reporters in Wilmington, Del., Sept. 16, 2020. (Jonathan Ernst/Reuters)
"Even if we get a vaccine, it will not be available for most of the population until well into 2021," Democratic presidential nominee Joe Biden said during a speech this week.
Vaccine development, he added, "don't adhere to election cycles, and their timing, their approval, and their distribution should never, ever be distorted by political considerations."
Trump has in turn accused Biden and others of promoting "anti-vaccine theories."
More broadly, polls show many Americans wouldn't take a vaccine. Some states will likely mandate getting the vaccination, with no clarity on whether it would be required under a Trump administration but signs it would under a Biden administration.
Asked about the criticism and polls, Meadows told reporters: "We can look at all kinds of polls, and I don't think you, as a member of the press, want to look at the polls in terms of how they view you."
"Let's just be serious about it. You're going to have contradictory information all the time. I can tell you what the president has been consistent with—and he's consistent with me last night, late on the phone—is making sure that every single minute of every single day is there to develop a cure, in this case both therapeutics and vaccines, to make sure that we tackle this virus that none of us had ever heard of until January of this year."
Centers for Disease Control and Prevention (CDC) Director Robert Redfield, meanwhile, told members of Congress earlier Wednesday that normal life wouldn't return until next year.
"So we can begin to take advantage of vaccine(sic) to get back to our regular life? I think we're probably looking at third, late second quarter, third quarter 2021," he said.
Redfield later said he was talking about when everybody would be able to get vaccinated.
"While Dr. Redfield may have a timeline in mind, to my knowledge he hasn't had intimate discussions with those processes," Meadows told reporters, noting that the CDC isn't directly involved with vaccine development. "That timeline is not consistent with what I have had personal interaction with."
Tom Ozimek contributed to this report.
READ FULL STORY @ The Epoch Times